Fundraising Readiness Checklist & Attracting Investors
Jun 12, 2020 - 1 PM EDT / 11 AM MDT CST / 10 AM PDT @ Webinar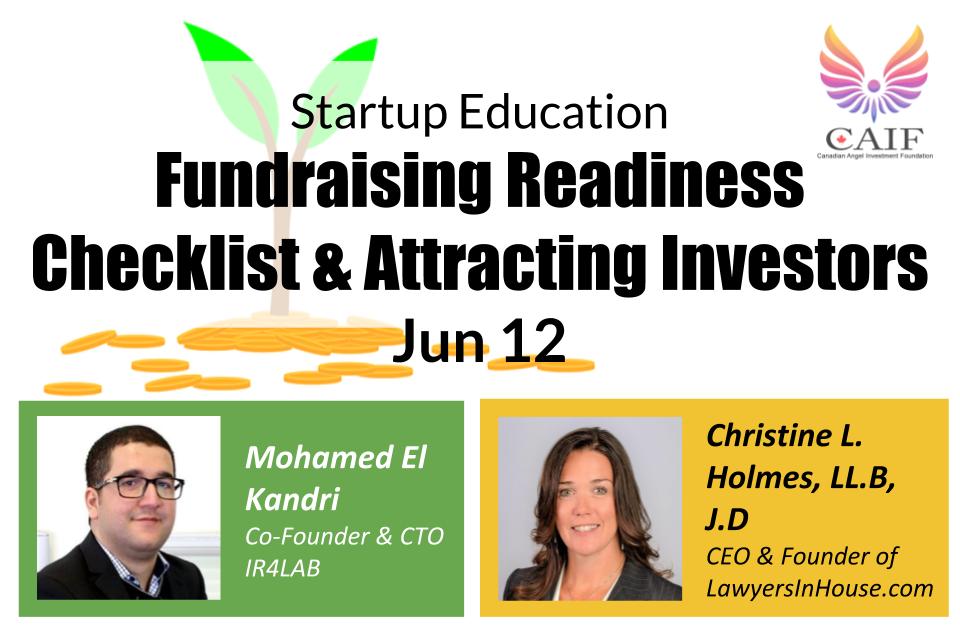 Summary of Attracting Investors
Summary of Fundraising Readiness
About this Session
We have two exciting topics lined up for you in this session. Fundraising is the holy grail for startups. Mastering the skills for fundraising can get you from nothing to IPO. However, we should crawl before run.
This session is perfect for those planning to fundraise. Have you do an assessment of your corporation for fundraising readiness? What's your share structure? Did you have OM created? Do you have your by-law in line? Did you have your Article of Incorporation check and fix up?
Christine Holmes, a lawyer with over 17 years of legal experience across multiple fields which include startup fundraising, will discuss on things that we need to be aware of before fundraising.
Another important topic is to make your company attractive to investors. Mohamed El Kandri, Co-Founder and CTO of IR4LAB with years of experiences in advising startups, will discuss strategies and tips on attracting investors.
This is a FREE education session for startups:
Event Topic: Accelerate your Startup 
Date: Jun 12, 2020
Time: 1 PM EDT / 11 AM MDT CST / 10 AM PDT
Duration: 1 Hour
Location: Webinar
Cost: FREE
Language: English
Agenda
Topic #1: Attracting Investors (25 mins)
We will cover topics such as:
How do you make your company attractive to investors?
What qualities attract investors? ROE? ROI? Free cashflow? Clients?
What strategies get investors excited to invest?
Topic #2: Fundraising Readiness Checklist (25 mins)
We will cover topics such as:
Is your company's corporate structure ready for fundraising?
Self assessment for fundraising readiness
Do you need an Offer Memorandum for fundraising?
Networking (5 mins)
You are welcome to do a 1 min intro of yourself / your company in this session.
Agenda
Topics
Presenter
Duration
CAIF Introduction
Your Host
Attracting Investors (Replay Summary)
Mohamed El Kandri
Co-Founder & CTO IR4LAB
25 mins
Fundraising Readiness Checklist (Replay Summary)
Christine L. Holmes, LL.B, J.D
Founder of LawyersInHouse.com
25 mins
Networking
5 mins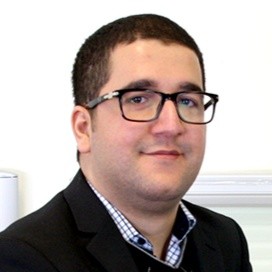 Mohamed El Kandri
Co-Founder & CTO IR4LAB
Mohamed is a Blockchain enthusiast who is passionate about Blockchain technology and committed to helping grow the Blockchain ecosystem around the world.
He has over 11 years of experience in finance, marketing, education, hospitality, product design, big data analytics and strategy with well-renowned organisations. He is a strong critical thinker and has a passion for innovation.
Mohamed is very active in the Blockchain space, he occupies various executive positions, including CEO of "FA Enterprise System" a company developing decentralized Blockchain solutions such as the "Fast Access Blockchain" platform, the decentralized exchange platform "Exchangily" and the platform "Artcryption" to protect and manage the intellectual property on Blockchain.
He leads the strategic initiatives at The BlockchainHub and also led the C-Lab incubation program, the first peer-to-peer community-based incubation program for Blockchain startups. He was also a mentor at the Blockchain for Social Impact Hackathon, the first international decentralized impact accelerator, where teams around the world solved challenges around financial inclusion, supply chain, identity & vulnerable populations and energy & environment. His research is keenly focused on the intersection of Blockchain with other technologies, what he likes to call "The Autonomous Revolution". This has lead him to be the program manager of the Certification IoT course at The BlockchainHub – York University.
He is also the co-founder of the project "Smart Transformation Saudi" at the King Fahd University of Petroleum and Mining with a direct connection to the "Dhahran Techno Valley", an innovation center grouping a dozen global companies like Aramco, HoneyWell and General Electric. The project aims to use new technologies like Blockchain, to contribute to Saudi Arabia's vision 2030.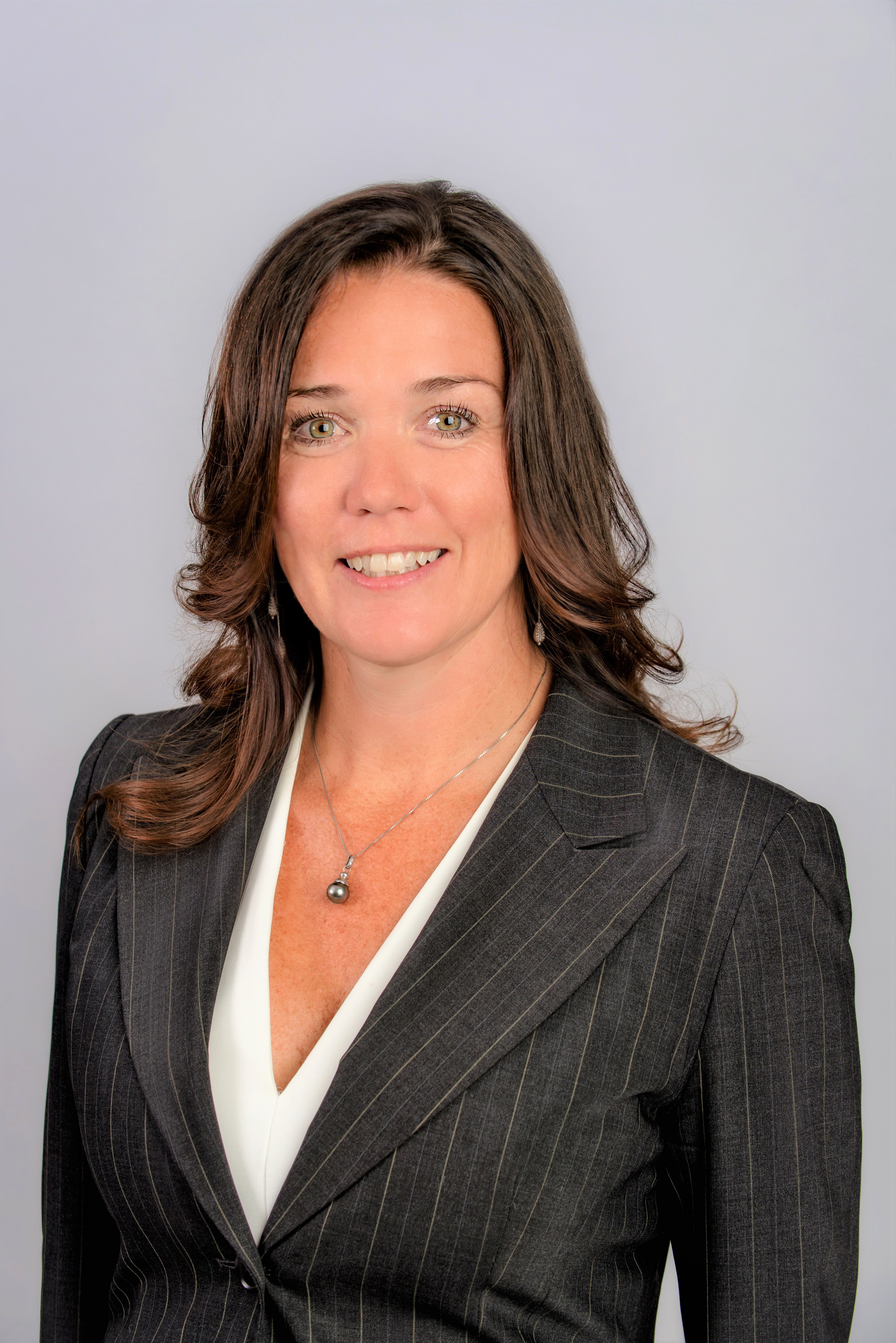 Christine L. Holmes, LL.B, J.D.
CEO and Founder of LawyersInHouse.com
Christine is the CEO and Founder of LawyersInHouse.com ("LIHDC"), a virtual law firm comprised solely of former in-house counsel. LIHDC focuses on exceptional client service and provides companies with practical, business-friendly advice. Our goal is to help you build your company by learning your specific needs and providing you with the tools to protect your business without stifling its growth. LIHDC is a full service firm with lawyers experienced in corporate, employment, IT, marketing/sales, real estate, litigation, compliance, privacy and trademark/IP services. LIHDC has lawyers licensed to practice throughout Canada, England, Wales, the EU and USA. We offer start-up packages for specific needs, subscription services, General Counsel services or ad hoc hourly assistance, depending on your requirements. Prior to founding LIHDC, Christine held in-house positions at Cineplex Entertainment and PepsiCo.
Summary of Attracting Investors
Summary of Fundraising Readiness
Did You Miss the Session?
Join our mailing list to never miss our session again!  Promise no spam!
Leave Feedback for the Event