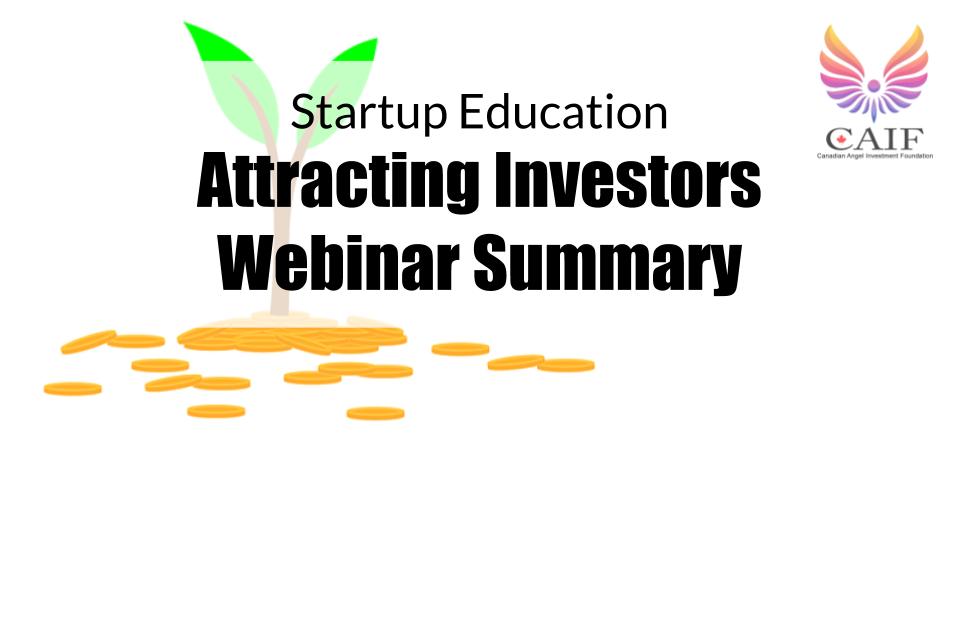 Summary of Attracting Investors Q&A
What are the factors that influence the valuation of a company?
Stage of your business; whether it is in an early-growth or matured stage

Business model; if you are looking to raise money, your business model must make sense to potential investors

Scalability and future growth; once you establish your business off a great idea, your business needs to be scalable in order to be sustainable. After all, investors are looking for the growth potential of your business. They desire to make a profit and create a long-term relationship (of around 3 to 5 years)

Size of probable user base 

The team behind the idea and business; investors consider the professional experience and skills of your team members and how relevant they are

Degree of traction (in sales or savings); if your business have previous investments, second-round investors are more likely to trust your company 

Location of your business; what is the outreach market worldwide
Which of the factors above is the most important? 
All factors are equally important

Depends on the group of investors you are approaching. You should look at what is the best fit for your company, the strategy, and you are looking for in terms of investors

Ex. For a group of investors interested in blockchain or artificial intelligence, they will emphasize more on the business model because it is an important part in their investment decision 

Investors will typically have a scorecard, and for each component, they will record a couple of goals they are aiming to achieve from an investment
What are some ways to boost the valuation of a company?
Have a strong and experienced team who engage in their business ecosystem. This shows investors that the people managing the company are aware of various stakeholders (such as competitors), are agile, and evolve in environment 

In some cases, a prototype helps boost valuation especially if they've been tested or have initial traction from potential customers
Does rounds of funding have an impact on valuation?
There is no specific threshold of funding rounds. It depends on the needs of your company
Ensure that you are prepared when meeting investors. Investors need a plan that makes sense to them in order to jump on board with your business. 

Business owners should keep in mind the dilution of their business. The more rounds of funding, you are generating more interest and traction, therefore valuation tends to be higher, however business owners must find the right balance between the dilution and what their shares and stakes are in the company in the present time and future. 
Is it more relevant to have the necessary revenue or traction on your business product or service offerings? 
The amount of revenue depends on the type of business you're operating. For instance, there are large companies who have raised billions of dollars from investors but are losing money such as Uber and Snapchat. Nowadays, investors are able to tolerate a degree of negative cash flow from companies because (especially in technology), startups are more focused on the growth in its early years, therefore they need cash from investors in order to further expand.

It also depends on the type of investors you are approaching. If they are a small group of investors, they may be reluctant to invest in companies who are not generating revenue or profiting because they do not have the resources to take that risk. Alternatively, venture capitalists most likely recognize this risk since approximately 80% of the companies they invest in will fail.
C-Lab Program
It's a program launched blockchain university – help startups in blockchain filed with platform to connect with advisors 

Business model is valid – msut talk to ppl in the financial field 

Get valuable insights from ppl may be duaghting task for startups so this platform connects them with experienced advisors 

First cohort: have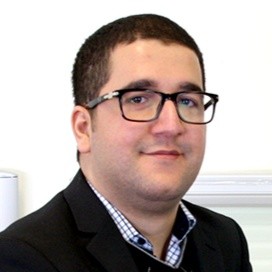 Mohamed El Kandri
Co-Founder & CTO IR4LAB
Mohamed is a Blockchain enthusiast who is passionate about Blockchain technology and committed to helping grow the Blockchain ecosystem around the world.
He has over 11 years of experience in finance, marketing, education, hospitality, product design, big data analytics and strategy with well-renowned organisations. He is a strong critical thinker and has a passion for innovation.
Mohamed is very active in the Blockchain space, he occupies various executive positions, including CEO of "FA Enterprise System" a company developing decentralized Blockchain solutions such as the "Fast Access Blockchain" platform, the decentralized exchange platform "Exchangily" and the platform "Artcryption" to protect and manage the intellectual property on Blockchain.
He leads the strategic initiatives at The BlockchainHub and also led the C-Lab incubation program, the first peer-to-peer community-based incubation program for Blockchain startups. He was also a mentor at the Blockchain for Social Impact Hackathon, the first international decentralized impact accelerator, where teams around the world solved challenges around financial inclusion, supply chain, identity & vulnerable populations and energy & environment. His research is keenly focused on the intersection of Blockchain with other technologies, what he likes to call "The Autonomous Revolution". This has lead him to be the program manager of the Certification IoT course at The BlockchainHub – York University.
He is also the co-founder of the project "Smart Transformation Saudi" at the King Fahd University of Petroleum and Mining with a direct connection to the "Dhahran Techno Valley", an innovation center grouping a dozen global companies like Aramco, HoneyWell and General Electric. The project aims to use new technologies like Blockchain, to contribute to Saudi Arabia's vision 2030.