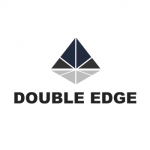 A Crypto Ecosystem that Unites all Crypto/Blockchain Related Services
Double Edge is a living, breathing crypto ecosystem, a multi-purpose vehicle to unite all crypto/blockchain related services under one umbrella.
The Crypto Exchange 2.0 – Get more out of the crypto/blockchain space!
Our crypto/blockchain ecosystem has a modular setup where the user tailors his experience based on his demands. We provide the service modules, you put them together.  Just your imagination is the limit.   It´s like a jigsaw puzzle, where everybody is given the same pieces but gets a different
looking picture at the end.  Big tech companies maybe provide our backend, but the frontend is ours to design so join us to build our global crypto/blockchain village together.
We have a massive market opportunity, strong tailwinds and the team to execute!  We start with charity, educational and unbanked services, but in a step by step process more will follow. The extensive use of AI and ML will secure a community daily inventing new use cases nobody ever dreamed about now.
Website: http://double-edge.net/