Tips from Book : How to Talk to Anyone by Leil Lowndes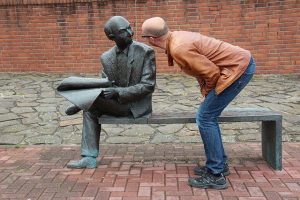 Have you ever wonder why some people are so convincing and charming? Those people seem to possess some magic power which could attract people to talk to them and makes people feel fabulous.  The book "How to Talk to Anyone" by Leil Lowndes describes some very interesting techniques.  You will notice immediately how people react to you differently if you master just a few of these techniques.  The book has over 100 techniques, I have captured the easy ones in this article.  
Flooding smile 
When you meet someone for the first time, delay your smile.  Don't flood your smile as soon as you meet someone new.  By delaying the smile for just one second will make you seem so much more sincere and the targets will feel that the smile is just for them.  For example, when you greet someone, instead of smiling immediately, put an one second delay and then approach with the big flooding smile. 
Sticky eyes 
The sticky eyes technique is to make target feels that you are genuinely interested in them.  However, the intensity of sticky eyes should be different for men and women. If the target is a man, just do a less intense sticky eyes.  Woman you can have more intense eye contact.  If you are not sure how to make eye contact, try to count how many times the target blinks.  
Big baby pivot
While you are having a conversation with someone, and then a third person smiles at you.  Give that person a big smile and turn towards the person, and invite him/her into your conversation. Just imagine if a 5 year old kid tugs on your shirt while you are talking, you would turn and face the kid and give the child a big smile.  You should do the same to adult as well.  
Hello old friend 
When you meet someone new, act as if they are an old friend and pretend that you like them.  And when the target feels liked, they would genuinely like you back.  
What's that?
Always wear something special or unique that people can start a conversation with. When a stranger come up to you, he/she can ask "What's that?" It's an excellent way to welcome people to speak with you.  Also, use the same technique when you speak with others.  Pay attention to others apparels and start a conversation with that. 
Where are you from?
When you were asked "where are you from?" Never give a naked city answer like "Toronto". Give another one or two sentences about Toronto that the person can fish for to continue the conversation. Also, the extra sentences should be targeted.  For example, if your target is an architect, you could say something like "I come from Toronto – it has the largest underground shopping complex in the world as per the Guinness World Records". If the target is a business person, then you say "Toronto has the largest concentration of private Information and Communication Technology (ICT) facilities in Canada and 3rd largest in North America."  If the target is a student, tell them about the universities in Toronto.  Of course, it means you need to do a little research of your city to have these little facts. 
Never the naked job title
When someone asks you what you do, don't just reply with your job title. Flush it out for them with some examples of what you do so that they can understand.  Not everyone is going to be able to understand exactly what you do and you need to give them more information to bait them into continuing conversation.  For example, if you are an associate partner of an investment company, you can introduce yourself as "I am an associate partner who connects investors with profitable investment opportunities"
The swirling spotlight 
When you are speaking, you have the spotlight on you.  When the other person is speaking, the spotlight is on the other person.  The more the spotlight is on the other person, the more the person is blinded by the spotlight not noticing that you haven't even spoken a word and the more they will like you. Let the other people talk and you just listen. The other person will think that you are a great conversationalist. 
Parroting 
Simply repeat the last few words of the person you are speaking with. To keep the conversation going, just repeat the last few words and phrase it as a question.  And the person will have fuel to continue the talk.  This work well as sales techniques as well.  Why ask about the objection? Just repeat the last few words when someone objects and the person would always tell you more.  For example, the person says "The movie is not funny".  You simply say "not funny?"  This gives the person the urge to continue the conversation.
The latest news
Before an appointment, turn on the radios or the latest news before you head out.  This can be great conversation starter.  Or you will at least know what everyone else is talking about.  
Don't ask the question – what do you do? 
Don't ask "what do you do?"  You will come off as someone only seeking for the high flying crowd.  People might feel intimidated if they don't do anything for a living.  Ask instead – "how do you spend most of your time?"  This gives the others choices to reply with their day jobs or other exciting activities that fill their days.
When you were asked "what do you do?"
What do you say when you were asked of the question – what do you do? Don't just say I am a hairdresser.  Put in the benefit statement in your job title.  For example, "I am specialized in flexible women hair style for both business and social settings".  However, you need to customize the benefit statement for different people. 
Increase your vocabularies
List out the words that you say it often. For example: great, smart, nice, wonderful, pretty.  Now look up the thesaurus and study the list of synonyms.  Pick a few words to practice and get comfortable with.  Next time when you want to say "you are smart" say "that's ingenious" or "you are so resourceful". When you want to say "this is a wonderful party" say instead "this is a splendid party".  All you need is to add about 50 vocabularies to make you verbally elite. 
If you enjoy these tips, you would definitely enjoy reading all the other 100 techniques in the book.  We highly recommend anyone to pick a few and give them a try.  You would be surprised how well they work.  
Join our great community and enjoy more knowledge sharing like this one.  CAIF hosts regular free webinars for startups, providers and investors – See our next event.