Introduction to Angel Investing (Replay)
Sep 18, 2020 - 1 pm ET / 11 am MDT CST / 10 am PDT / 2 pm ADT @ Webinar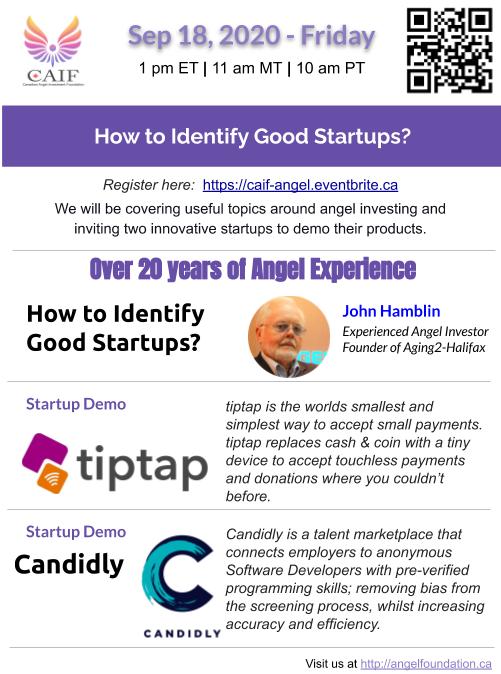 About this Session
This is an educational session for investors who are new to angel investing and thinking about becoming an angel investor. This series is to help new angels discover the basics of becoming an angel investor. Learn the important best practices in this program.
This session we have invited John Hamblin who has over 20 years of angel investing experiences to join us to discuss on how to identify good startups for investment.
John has been involved in many startup investments and is part of 3 investments groups. As well, he has mentored and advised many early stage companies. In his talk, he will discuss key elements that he looks for in a startup and he will also review a few startups that he has been involved in and identify some common issues which often arise where steps can be taken in advance to minimize problems later as the company grows." He will also be glad to answer any questions either during the session or by email after the session.
Agenda
25 mins – How to identify good startups?
15 mins – TipTap demo
15 mins – Candidly demo
tiptap
tiptap is the worlds smallest and simplest way to accept small payments. tiptap replaces cash & coin with a tiny device to accept touchless payments and donations where you couldn't before.
Candidly
Candidly is a talent marketplace that connects employers to anonymous Software Developers with pre-verified programming skills; removing bias from the screening process, whilst increasing accuracy and efficiency.
We also host exclusive private investor meeting. If you want to join, please contact us at info@angelfoundation.ca.
Join our mailing list to keep up to date: https://mailchi.mp/75dca84008e5/caif/
Did You Miss the Session?
Join our mailing list to never miss our session again!  Promise no spam!
Leave Feedback for the Event