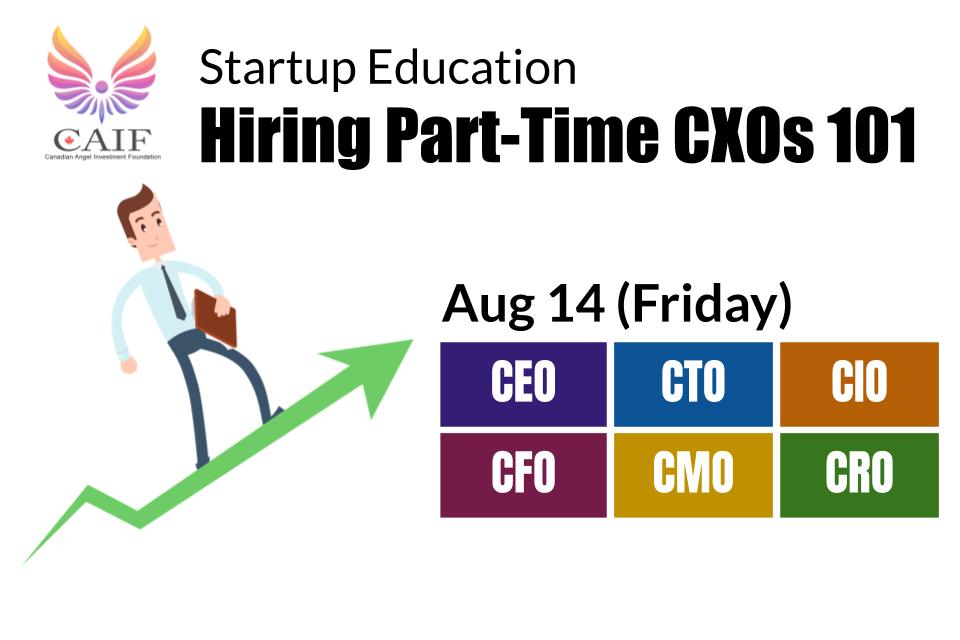 Summary of Hiring Part-Time CXOs 101 Q&A
PART 1 – Fractional CTO (Presented by Jonathan Foo, TMQ Consultants)
What does a startup CTO do?
Responsible for the overall technical strategy
Enables efficient use of technology throughout the organization
Aligns technology with business/brand strategy
Communicates the technical strategy to investors, customers, and partners
Combines many aspects of traditional CIO, CTO, CISO, CPO, PMO, VP of Engineering and Chief Architect roles
And whatever else that is required!
How can a fractional CTO help you?
Design, test, and validate potential solutions
Targeted to specific goals and milestones
Assess the technology landscape to highlight risks and business opportunities
Create a product roadmap
Determine the most cost-effective way to quickly make progress towards business goals or MVP
Audit and improve organizational health
Mentor and develop technology leaders
Why not hire full-time CTOs?
Experienced CTOs are expensive
CTOs are both tactical and strategic therefore successful CTOs must have had exposure working in various aspects of IT
Avoid an under-skilled and/or inexperienced "junior" CTO
Many startups may designate a member of their team as the "technical star" and refer to them as a CTO, however they might not have the right mix of experiences
Don't pay a senior CTO to get deep into the weeds
Even if a startup happens to find someone who is a great fit, the firm itself may not have enough work or requirements to complete high level CTO tasks
Keep your burn low while you are still adapting and learning
Having someone who can help focus on strategic tactics and the larger picture will be very beneficial for startups in avoiding overspending
Fractional vs. Part-Time CTO
Fraction
Focuses on specific areas or requirements

CTO's time is limited therefore responsibilities are

shared

with others

Startup needs specific technology help
Part-Time
Typically further along in the startup life cycle

Covers all technology areas

Owns entire technology strategy and portfolio

Startup has broad technology needs and growth
Keep in mind that this process is flexible. The needs for your company will change over time. You can start with: fractional > Part Time > Full Time CTO
How does the process work?
You can consider it as a basic services model: Initial consultation > time-boxed contract > retainer > part-time CTO
Initial Consultation

In every service model, the CTO should get an understanding of your startup's stage and goals. The more the CTO learns about you earlier long, the quicker they can create a proposal. 
Time-boxed Contract

Understand that the CTO is still learning about your business and trust must be established between them and your startup

There will be specific goals and tasks (potentially a series of contracts)

Retainer stage 

The CTO has a good broad understanding of the startup and good working relationship
PART 2 – Startup Accountant (Presented by Alfred Kam, Partner Accountant & CFO at AWK CPA)
What services does startup accountants provide?
Outsourced accounting department
Set up structure (ex. chart accounts, software for you industry)
Bookkeeping (ex. tax structure, exit strategy, shares)
CFO-like advisory services (depending on your startup's stage and specific nedes)
Work with your current advisors (ex. valuator, financing, lawyers) to support and provide guidance

Strong experience identifying opportunities

Strong tax compliance experience, including GST, NR reporting, withholding tax, etc.
Items to Consider as an new Entrepreneur
Entrepreneurs and startups are challenged with managing so many different tasks and accounting related issues are likely the last on their "to-do list." Below is a list of important items to consider as a startup.
Accounting package (expense, tracking receipts, including e-transfers)
Pre-investor package (maintaining capitalization table, corporate minutes & resolutions – the goal is to help raise investments in the future)
Applying for government programs 

Pre-SRED planning and application – program available to Canadian companies focused on scientific research & experimental development 
PART 3 – Maximize Values  (Presednted by Tanmay Kar, OneCFO) 
How to maximize value at an Early Stage – Turn Uncertainty to Certainty
Companies put together plans and projections yearly however nothing is ever certain and things are always at an early stage. Demonstrating higher level of confidence in turning uncertainty to certainty can get a startup the most value.
Here are four things that can help make a startup successful, accompanied by real-life examples:
Product Market Fit

– Spend time in the market to understand your customer's needs and whether there is a direct need of your product. Continuously be tweaking your product to fit new standards. 

Customer Obsession –

Think about the customer. Customer obsession at an early stage will help you perfect the product, find the right market fit, fix your pricing strategy, and align your team with one mission to delight your customers. When investors see this form of execution, trust will start to be built

Iterative Model

– "Don't build plans, build toys." Build a business model that is driver based. Simplify your complex models so that anyone who has access to your model can play around with it and understand the risks and benefits of your business. Transform your business model to a toy and you will engage your leadership team, employees, investors around the model. 

Inner Circle

– Critical for the "rainy days." At an early stage, these people (who are likely your first investors) are the ones who can help you navigate through uncertain times.
An experienced strategic part-time CFO can help the CEO and the Leadership Team navigate through the uncertain times with pragmatic strategic guidance
How to maximize value at a Growth Stage – Valuation & Momentum
While financial performance matter, the valuation of a company at growth stage largely depends on the velocity of successes in doing the right things (Momentum). *It is assumed that the growth stage is the traditional J-curve.
Organization Culture
Focus on Meritocracy –

talent pool/hiring process
A competent part-time CFO who is unaffordable as a full-time executive can help making right investment decisions and enable key executives to execute against an expected J curve to maximize value
How to maximize value at an Exit Stage – Plan in Advance
Objective Assessment

Evaluate Options

Know your Partners & Competitors

Improve Balance Sheet
A part-time CFO needed absent a full-time CFO who can develop and execute on an exit strategy independently or together with an investment Bank