Angel Investing for Beginners - Jan 15, 2019
Jan 15, 2019 - 9 PM EST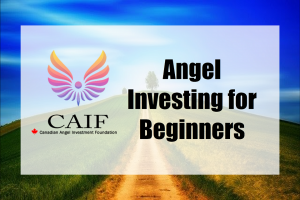 About this Session
This virtual session is designed for those who are new to angel investing.   This session is designed to be a small group discussion which is friendly and educational.  The session will have the following format:
Educational Topic on Angel Investing (20 mins)
Discussion about the topic (10 mins)
Startup Company Video Pitch (10 mins)
Discussion on Startup Company (20 mins)
This event is hosted by Canadian Angel Investment Foundation (CAIF).
Thanks for Attending
Thank you everyone for attending the session.  Hope you had a great time learning about the basis about Angel Investing.  As discussed in the session, angel investing could be financially rewarding, but at the same time, it has its risk profile.  The Angel investment could have a 27% average IRR (Internal Rate of Return) and an "average" Angel exit is about 2.6 times the original investment in 3.5 years.  We also heard a presentation from a high tech marketing startup company and discussed about the startup company.
Did You Miss the Session?
Join our mailing list to never miss our session again!  Promise no spam!
Leave Feedback for the Event